7 REASONS THE CRYPTO MARKET CAN BE DIFFICULT!
You just have to know them or get burnt!
We've heard how people have made wife-changing (I'm kidding), life-changing money in crypto. Turning $100 over 100x in a few months, especially in a bullish season like this. it's absolutely true. 
However, this seems to mask the fact that crypto is far from easy. You see newbies leaving their jobs all in the bid to become full-time traders without even learning the skill and gaining the required experience. 
Thoughts of a million-dollar, retirement begin to creep in as your brain releases dopamine. 
Despite the crypto market being the most-promising for any beginner to delve into considering the ample options, I should also let you know that the crypto market is difficult for a number of reasons. 
You know, I intend to shorten your learning curve as much as possible. 
Ready?
I bet you are!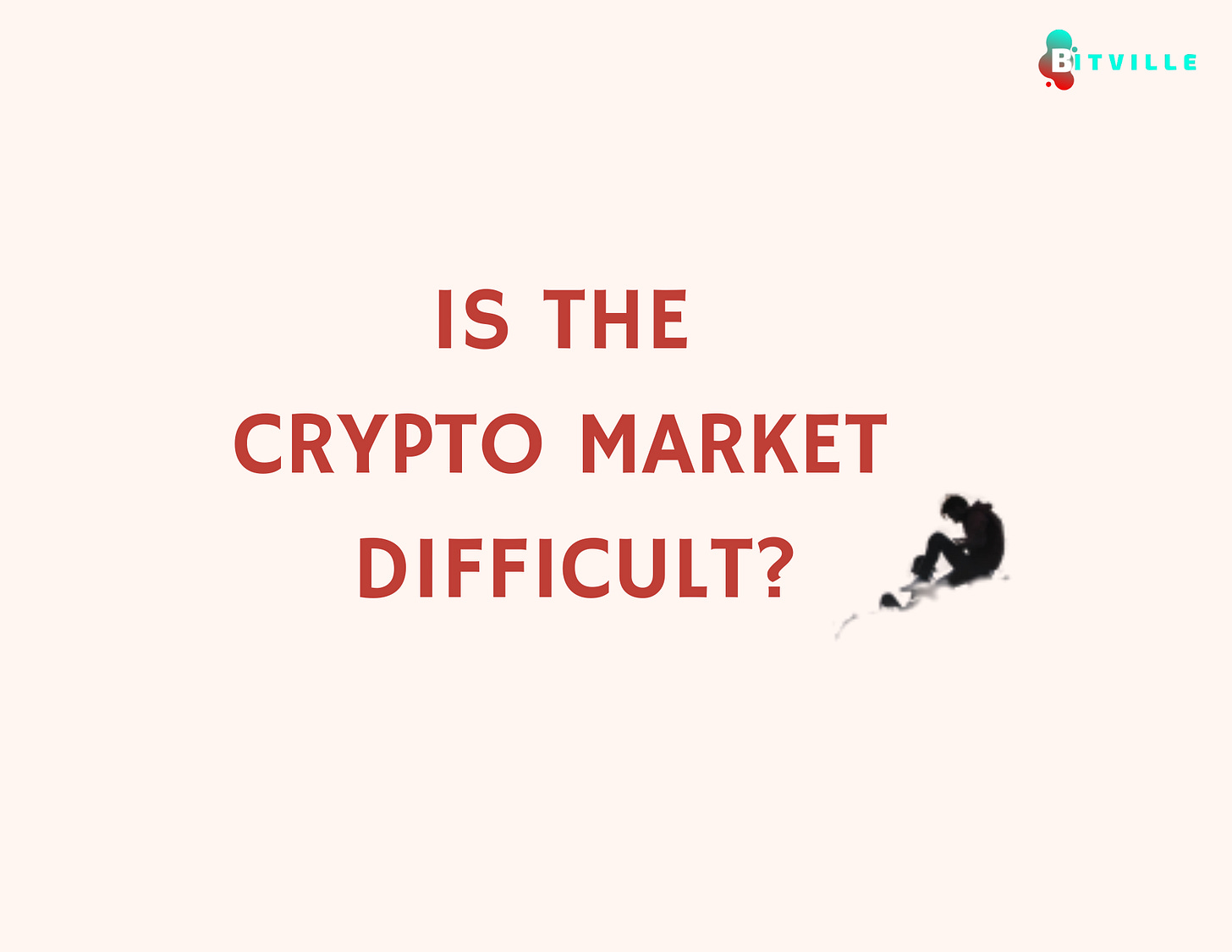 24/7 Open Market
For a lot of traders, this is positive. However, a market that never closes somehow gives you the feeling that you should trade always. It's normal to see traders stay up very late trading. This affects their sleep life and overall health in general. The fatigue it brings can cause you to make unwarranted trading errors that you wouldn't if you always found a way to step out of the market. 
Protective Orders
Not all exchanges have a necessary feature like the "OCO – one cancels the order" which allows you to set a stop-loss and take-profit at the same time. This should be non-negotiable as it would help you stay away from the screen more often. As a result of this, you see traders miss a huge pump just because they weren't aware the token they bought had pumped in price, all because they set a stop-loss instead. 
Nevertheless, if you have to choose between setting a stop-loss or take-profit, don't think twice to choose stop-loss. It's more important to manage your risk as anything can happen in a volatile market.
But Miracle, why is my Bitcoin balance reducing? I'm up in $$ value
This stuff can be really complicated – the entanglement between Bitcoin and Altcoins. Alts are best to trade when Bitcoin isn't making sharp moves (up/down). As bitcoin moves up, traders sell off alts to catch the rally, in anticipation that other traders will sell-off their altcoins too, causing prices to dump. When Bitcoin falls in price, it could be worse sometimes for alts – however, this will vary according to current market sentiment. 
As a new trader, it's easy for you to gauge your success with increasing dollar value; but if you're losing BTC trading, you aren't doing it right. 
Wow! Let me go with 100x for a quick profit!
This is the easiest way new traders lose money and get depressed. Leverage is a double-edged sword, and should only be used by experienced traders who have properly learned to control their emotions. 
Crypto exchanges make it possible for you to trade with exciting leverage as high as 100x, but the idea is to take what you have through liquidation. (Scoffs) Everyone is in business, right? 
I'm going to get rich quick
Crypto appeals to a lot of young people who think they can get rich quick. Well, yeah, it's possible to 10x your money in a short while. But 90% of people who do that got lucky. Because of these expected unrealistic targets, some tend to see their gains wiped away in anticipation for more. We always want more, don't we?
That's why trading must be done with discipline and specific targets. Profit is profit. You're never going to sell the exact top or buy the exact bottom. The idea is to be profitable.
So much noise on Twitter
One of the easiest mistakes a beginner can make is to follow the signals of a random bunch of Twitter avatars. At this stage, you are like a ship with a rudder.
Most of the crypto twitter avatars with huge following tend to shill you those coins for their benefit. The thing is, once there's so much social noise about a particular token, chances are it has gotten to a saturation point temporarily. Hence, you're always advised to DYOR – Do Your Own Research! 
Managing risk
This is about the most important in trading. If new traders understood this, they'd make a lot fewer mistakes. Know how much to risk on any particular trade, how to split your entries, and where to cut your losses. This isn't the most exciting because it's not about the profits but you can't think about profits if you're not managing your risks properly. 
Learning takes time – and trading is no different. It has similar experiences akin to life-learning - an endless cycle. 
Now that you know, hit the share button below and cut-short some other person's learning process!