15 INVALUABLE TRADING LESSONS YOU'D BE GRATEFUL FOR!
Every moment so far in the crypto industry has been a valuable one for me. The moments I've spent learning, making mistakes, adjusting to trends, and growing all along.
Very few traders have the passion to write and share their experiences, and this makes it a struggle for newbies to learn a lot of avoidable mistakes.
In today's newsletter, I'm sharing 15 invaluable lessons you'd benefit extremely from.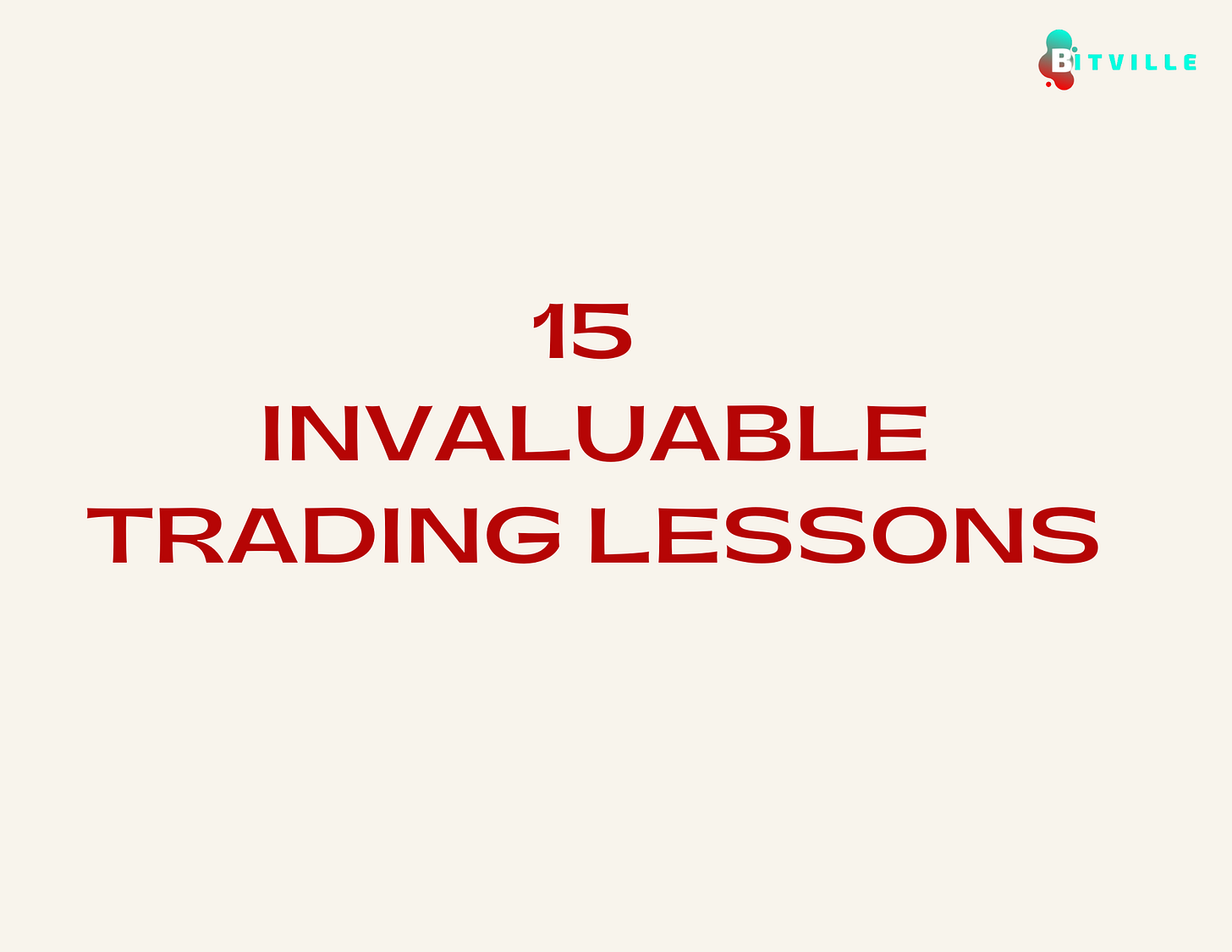 One of the easiest ways to crash your trading account is by overtrading. When you overtrade, there are chances you will get caught in the market's most horrible moves.

Find a way to ease the pressure. It could be hanging out with friends, drinking, sports – anything that makes you happy.

If you are a beginner, you need a mentor. You need the opinion of people who have a better experience of different market scenarios before you find your own voice.

Get comfortable missing a move. You never lose money from trades you didn't take. The market always presents opportunities if you're patient enough to wait for them.

Day-trading is very stressful but ensures you close the day with a $ if you know what you're doing. It also helps you avoid the big draw-downs as your target is to profit from smaller market moves.

Avoid excess leverage. Keep your peace of mind.

A perfect set-up does not guarantee you will win. The market does what it does. But if you're not confident in the set-up, don't take the trade.

If you can't get comfortable with losing money, trading is not for you. If you choose to be a trader, you'll likely lose money for the rest of your life and there's no escaping it. Begin with small amounts and test the waters.

No matter how much you demo-trade, you'll not learn to handle the emotional roller-coaster of using real funds. Jump in when it's time.

It's easy to fantasize about trading but be ready to endure a horrible social life.

For an active trade, the profit or loss you realize is not confirmed until you close the trade. Simply put, you've not made money if you've not closed the trade.

Don't set financial targets for your trades or you'll be forced to chase it which may lead to mistakes. Focus on refining the process that leads to consistent wins.

Get as much knowledge as you can. You become more confident in a trade set-up once you understand exactly why you got in.

If as a trader you're not on Crypto-Twitter you're wrong. There are lots of great minds to learn from.

No matter how hard trading gets, it gives you a chance to earn a living from the comfort of your home. Be grateful!
If you learned anything from these tips, kindly hit the share button below and pass the knowledge.
New to Bitville newsletter? Hit the "subscribe" button below. I've got a gift waiting for you.